Version 0.7.2Public Out Now
---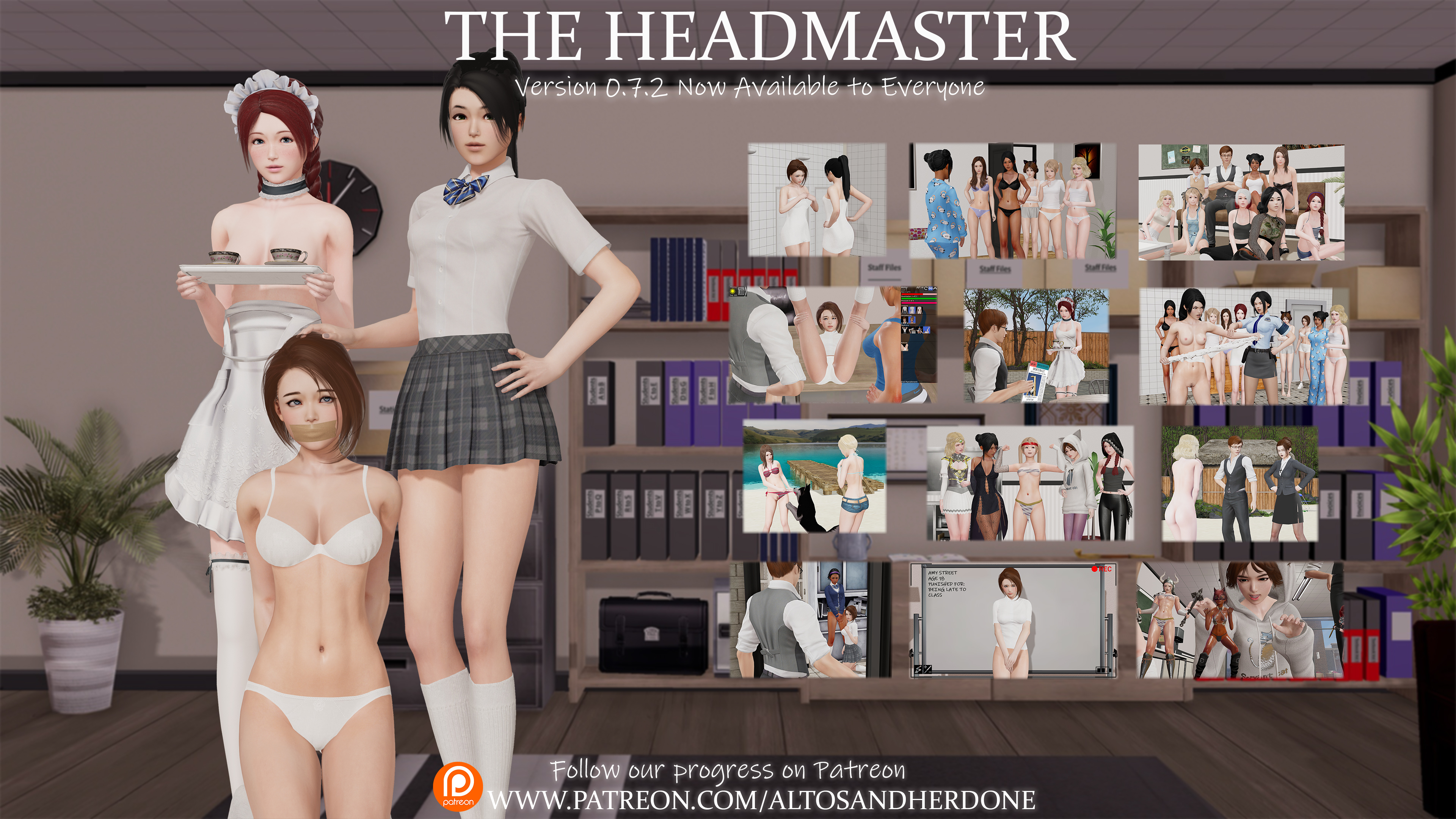 Hi guys,
This update is focused on Amy with the implementation of her punishment system up to level five. Catch Amy misbehaving, punish her in your office and then spy on her room to trigger her quest-line. There are multiple objectives to complete for Amy so don't forget to keep checking the quest log if you get stuck.

There should be no need to start a new save to see everything for Amy. When you load an old save the game will give you three options; you can reset all of Amy's content if you want to see everything from the beginning, you can watch a brief recap of Amy's content, or you can just continue as normal.
There are also a bunch of little scenes at the weekends around the dorms and the lake and a short funny scene for Lucy at your apartment. As always the easiest way to find out what's new is to check the replay menu. Click on a locked event to get a hint on how to see it.
Android users: Firstly there are two versions this time. A compressed version with lower file size and a larger higher quality one. Also, I had a problem with the auto-updater for this version so I had to make it install as a new app rather than making it update the old one. I think the problem was caused when I upgraded to a new computer and reinstalled Renpy. On this occasion, you'll need to move your old save files across manually. To do this find an android file manager from google play then copy your saves from the folder: android/data/altosandherdone.theheadmaster/files/saves and move it to the folder: android/data/com.altosandherdone.headmaster/files/saves
Changelog from 0.6.2Public to 0.7.2Public:

Punishment system implemented for Amy
New quest-line for Amy with several new scenes - Follow her Quest-log
New spying scene for Debbie and Maxine (visit Rachel's room when prompted to)
Movie night scene at the dorms on a Friday evening
D&D game at dorms on Sunday afternoon
Scenes for Amy and Donna at the lake on Saturday afternoon
A scene for Emily at the lake on Sunday Morning
New scene for Lucy at your Apartment
Files
TheHeadmaster-0.7.2Public-mac.zip
2 GB
Apr 24, 2020
TheHeadmaster-0.7.2Public-pc.zip
2 GB
Apr 24, 2020
The Headmaster - 0.7.2Public - Android
1 GB
Apr 24, 2020
The Headmaster - 0.7.2Public - Android (compressed)
866 MB
Apr 24, 2020
Comments
Log in with itch.io to leave a comment.
How do I get rachel to level five. I max out the everything when she is punished
U need to upgrade ur Policy at Friday Meeting, that allow you to force Rachel to open his shirt for regulation..
When I tried to install this update (It should have said update because I already have it installed) it something about it not matching any uploads any idea why this hasn't happened before?
You'll need to re-download the whole game. Its not a patch.
When I try to download it says no compatible uploads were found for this title I am trying to download it through the itch app could that be the problem?